Our 2023 season if fully booked. Currently taking inquiries for 2024.
PaperOcelot will be out of the studio from April 28th to May 28th. All inquiries will be reviewed on May 29th. 
Beautifully crafted and uniquely designed, our semi-custom invitations are perfect for those who want something special.
These invitations feature unique designs that are fully customizable, allowing you to choose the colors, fonts, and wording that best reflect your personality and wedding's theme.
Choose from our vast collection of hand drawn illustrations, monograms and antique artifacts to create a truly one-of-a-kind suite that will make a lasting impression on your guests and create a keepsake you will cherish forever.
Book a Consultation
Turn Semi-Custom into Custom
Slide the bar to see how the same suite can be personalized with colours, fonts, illustrations, embelishments and designs to make it unique to you.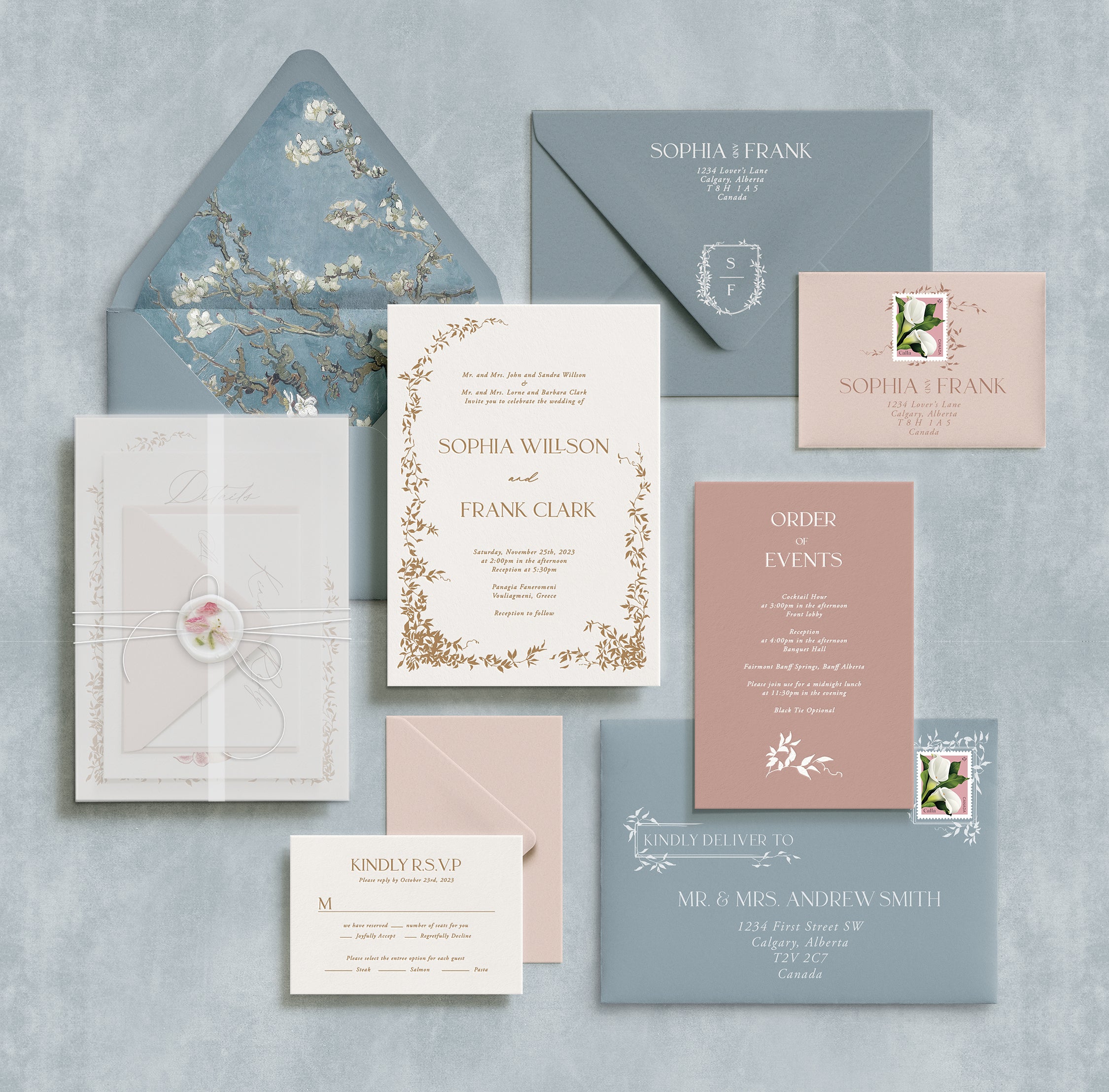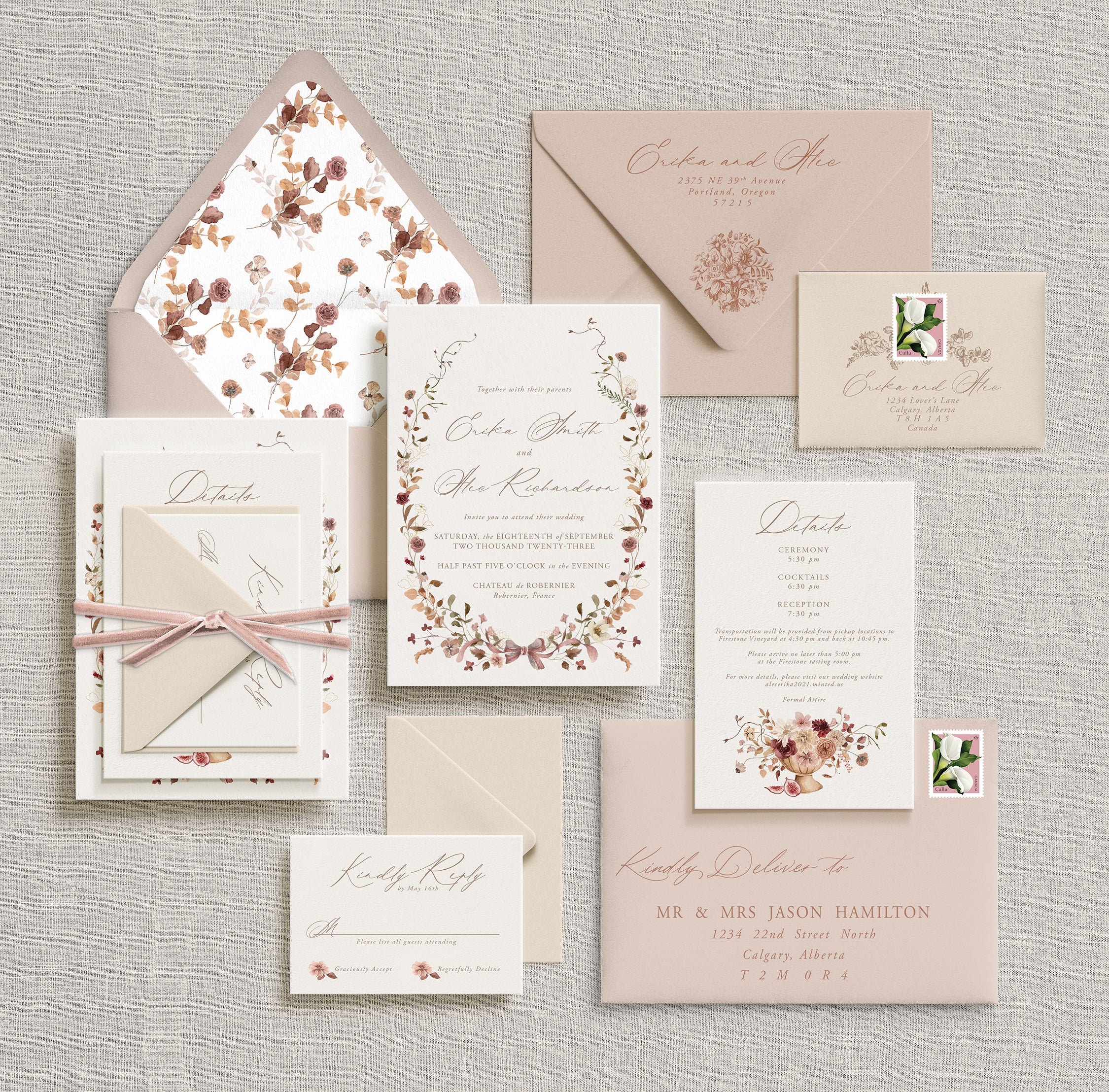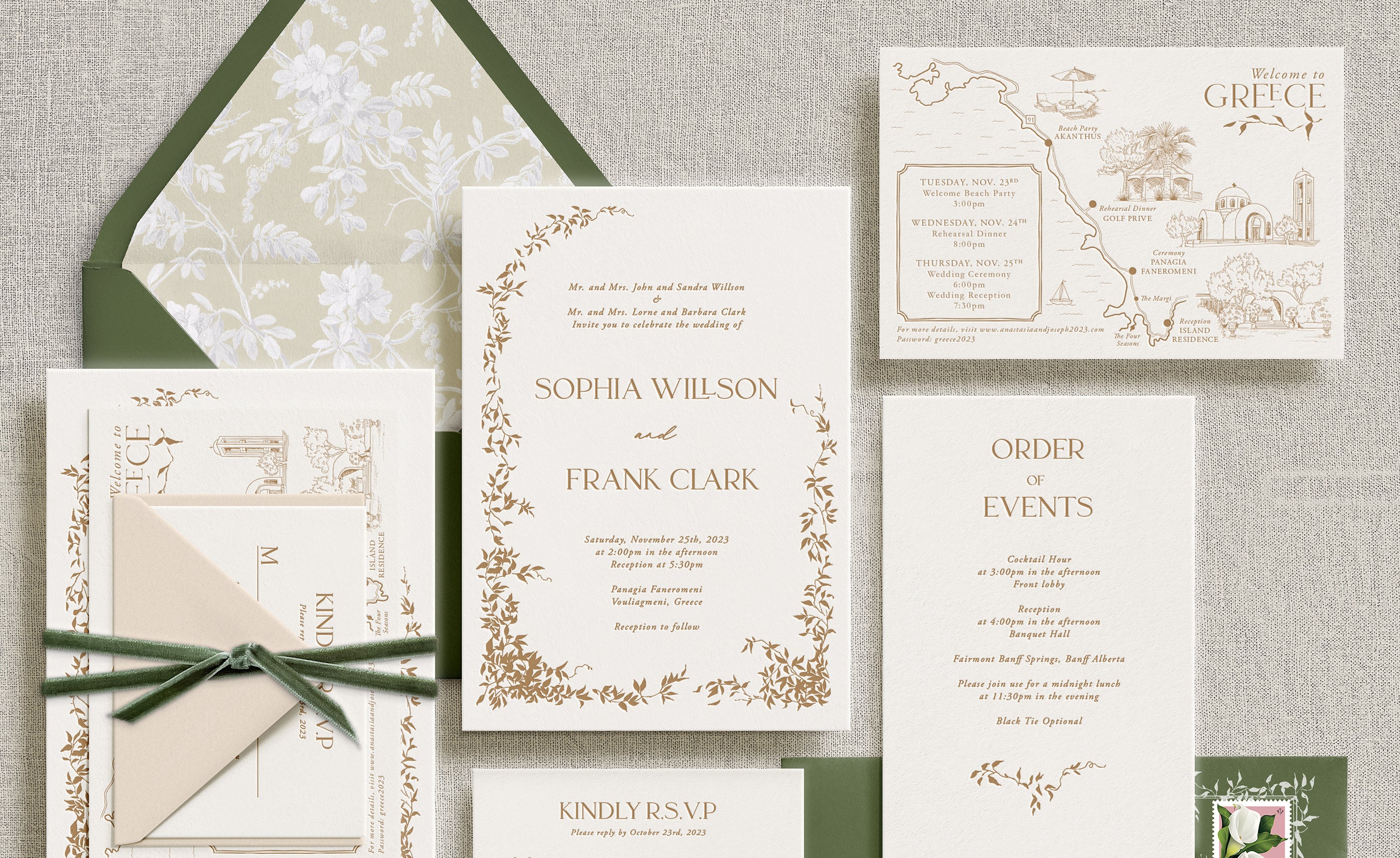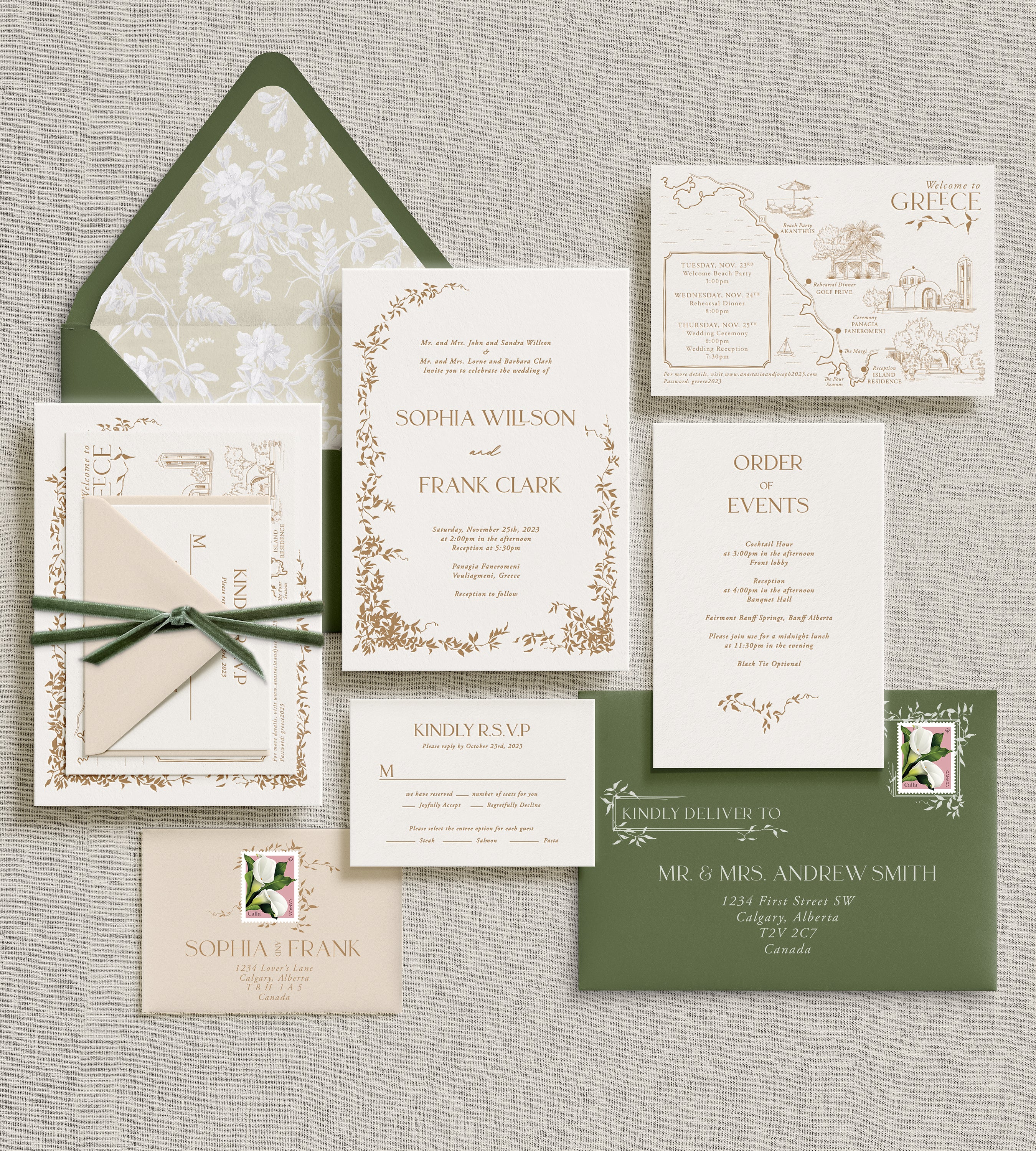 Embelishments
Finish your suite off with velvet ribbon, custom wax seals or fine silk.
Custom Maps
Fine illustrated maps are a great way to share your venues and get guests excited about your wedding weekend.
Luxury Printing
Experience the tactile feeling of luxury printing and paper with plush cotton and deep letterpress
Envelope Liner
Add a vintage painting or custom created illustration to your envelopes.
Customizable Layouts
We will work with you to create the best way to delivery your wedding details to your guests.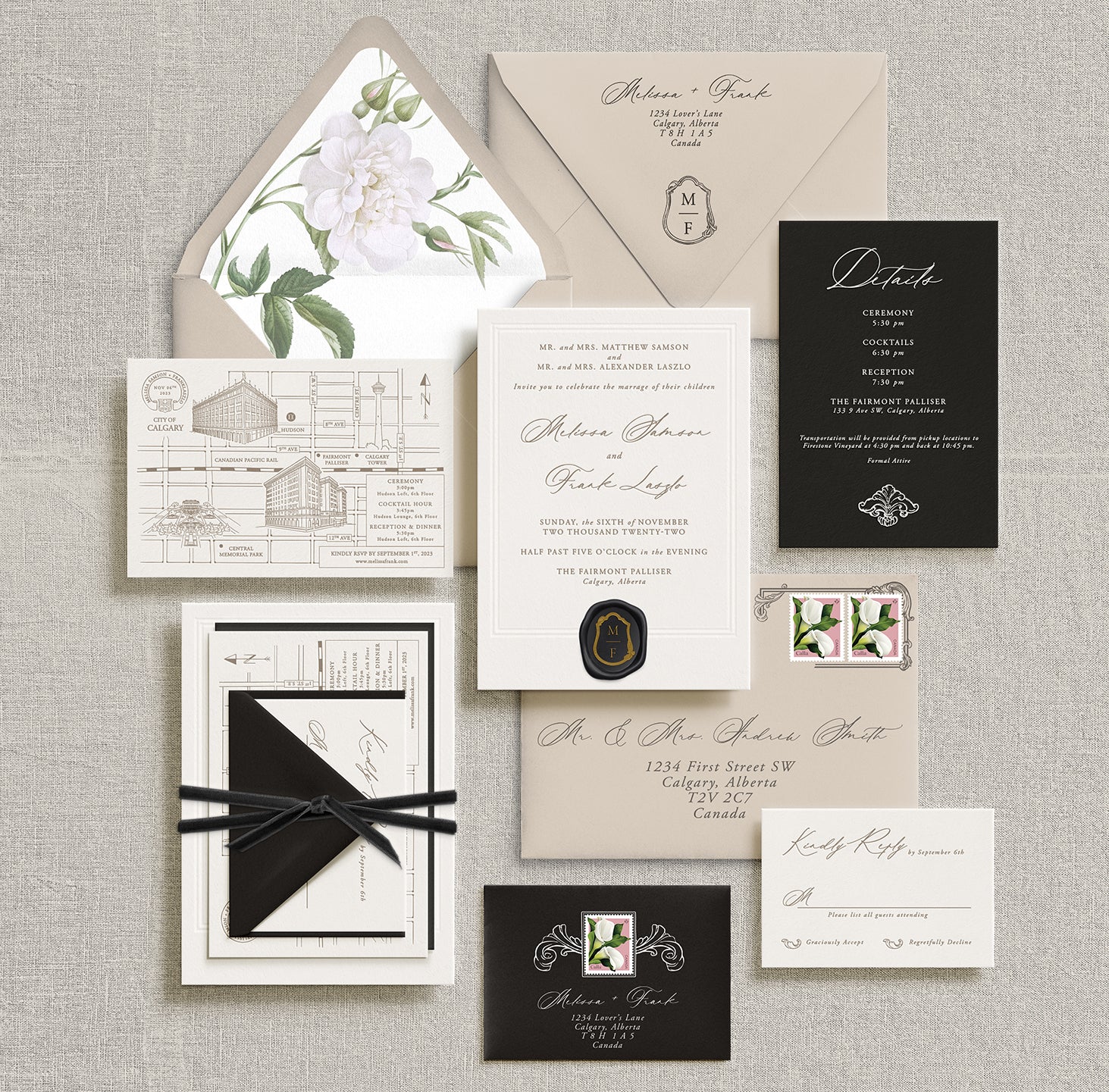 Palliser
This suite is inspired by the Fairmont Palliser Hotel, with a mix of classic and modern elements. Featuring a subtle embossed double border, this suite sets the tone for a classic Black Tie wedding with touches of luxury and modern flair. Pair this suite with a gold hand painted wax seal, velvet ribbon and a vintage botanical envelope liner to elevate the whole package.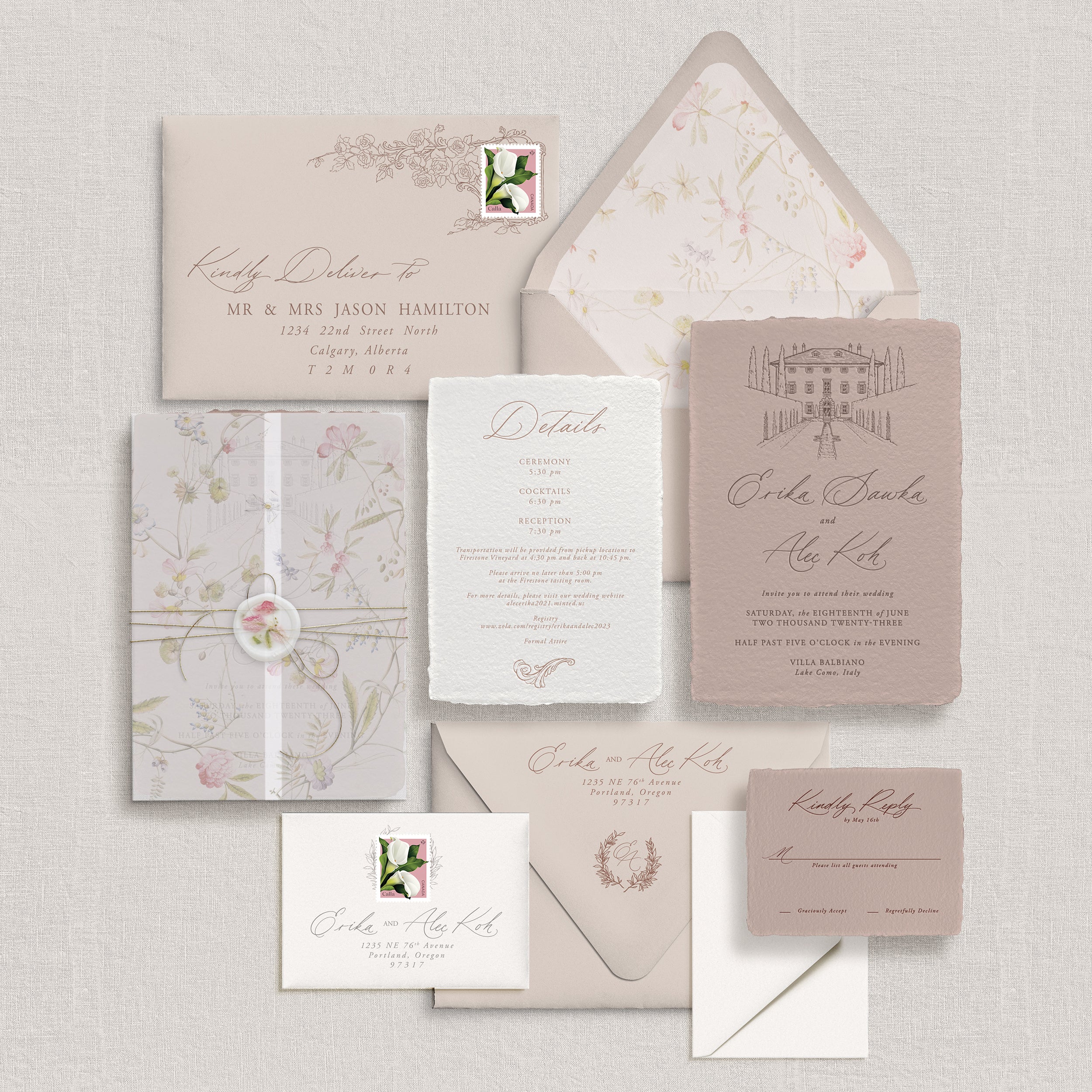 Chateau
A classic suite for that timeless feel. This suite focuses on the delicate, old word luxury. Inspired by the stunning floral gowns of Monique Lhuillier, this suite features delicate vellum wraps and liners with artwork from the historic archives of The Victoria Albert Museum. Pair this suite with your venue illustration, monogram & map for a trully specal peice.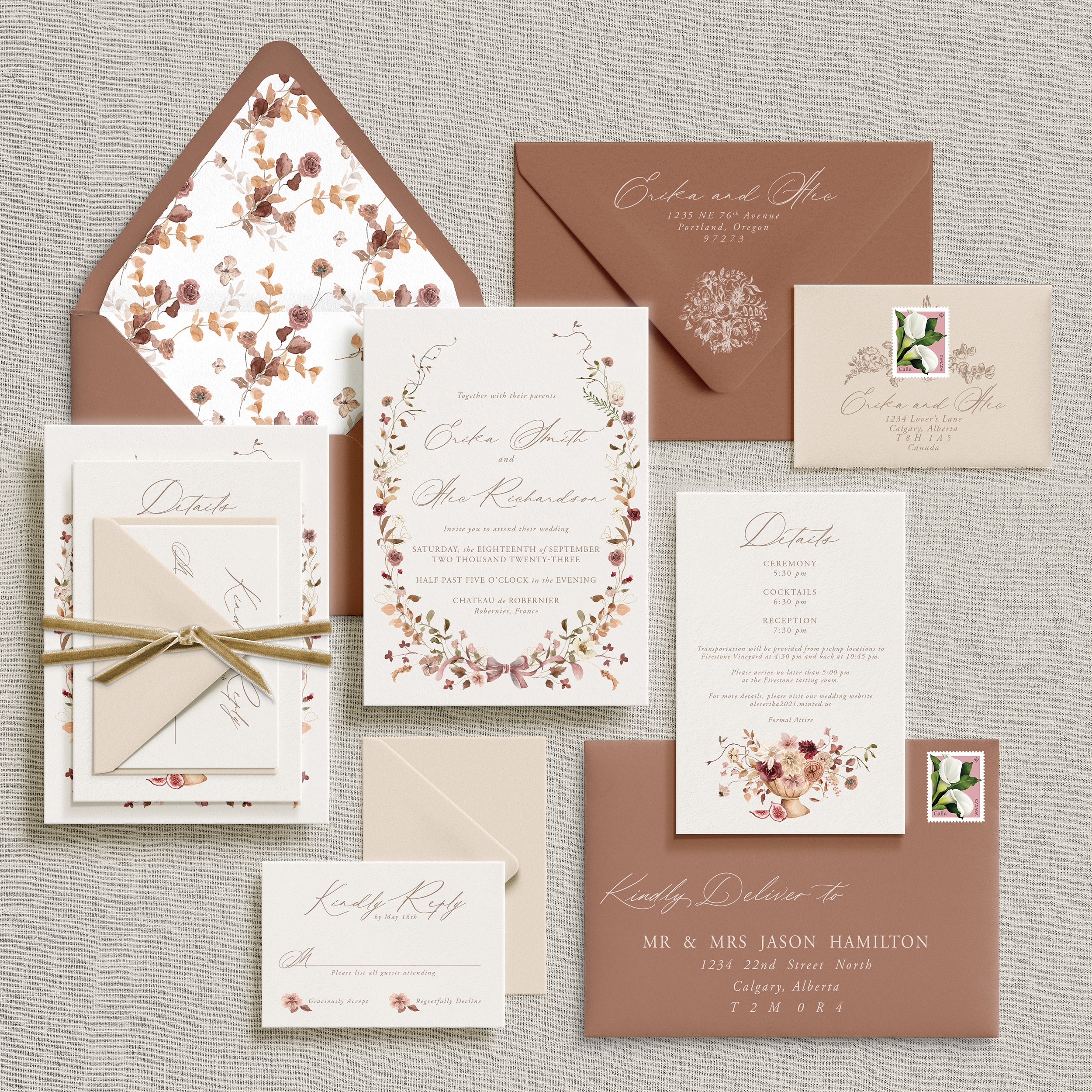 Botanical
A delicate suite featuring hand drawn or hand painted floral elements. Avilable in multipe different floral wreaths and patterns, this suite can be customized with your colours to fit any season.
Add velvet ribbon of vellum wrap to complete the look.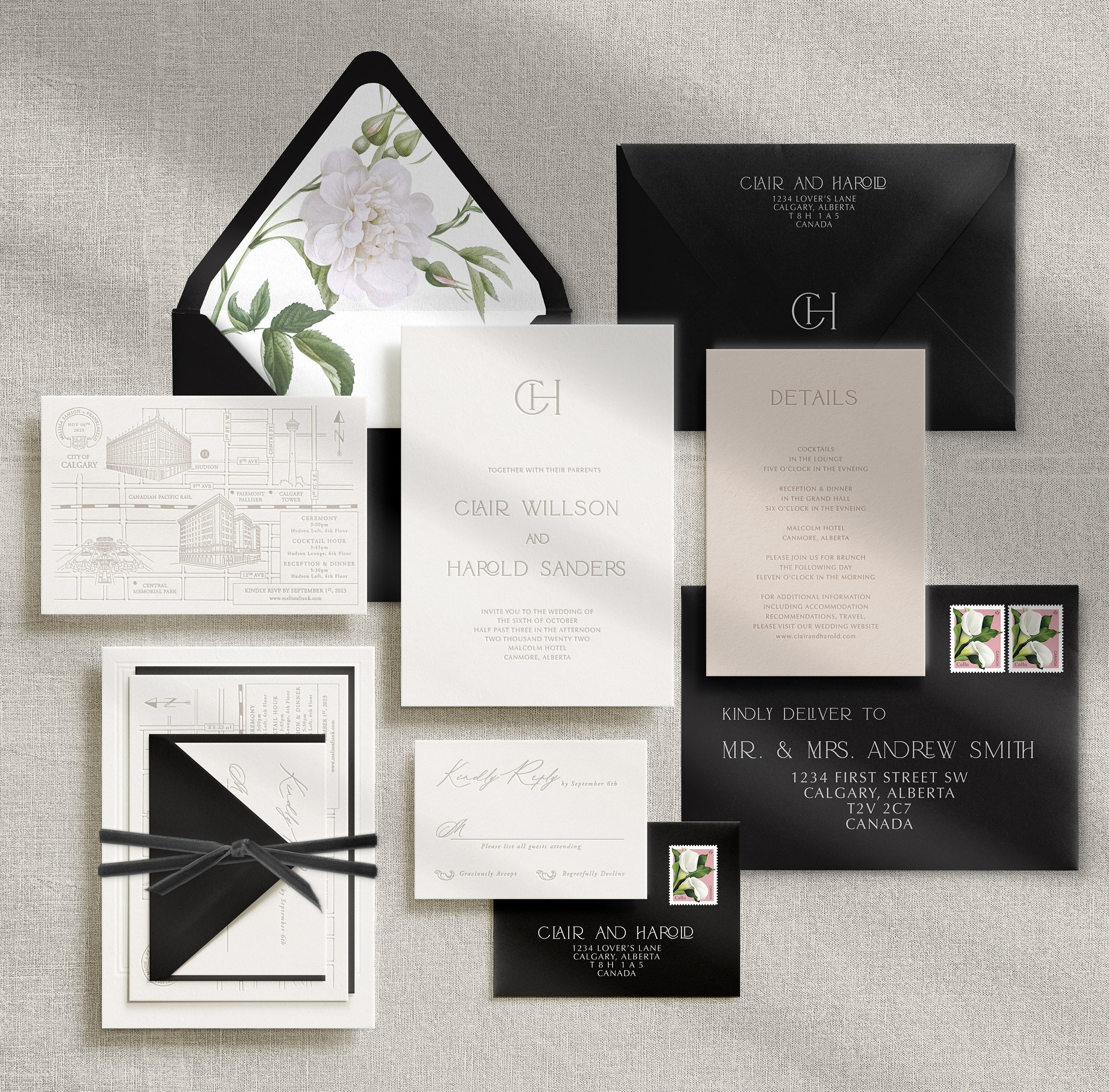 Cartouche
Modern, delicate, yet bold. This suite is a classic, featuring your monogram or crest on a minimalist invitation design.
This suite is the most versatile, as modern fonts or delicate calligraphy can be used to change the tone of the suite.
It lends well to bold envelopes & card stock colours, and dramatic envelope liners.
Choose from the many available crest or monogram styles to make this suite uniquely yours!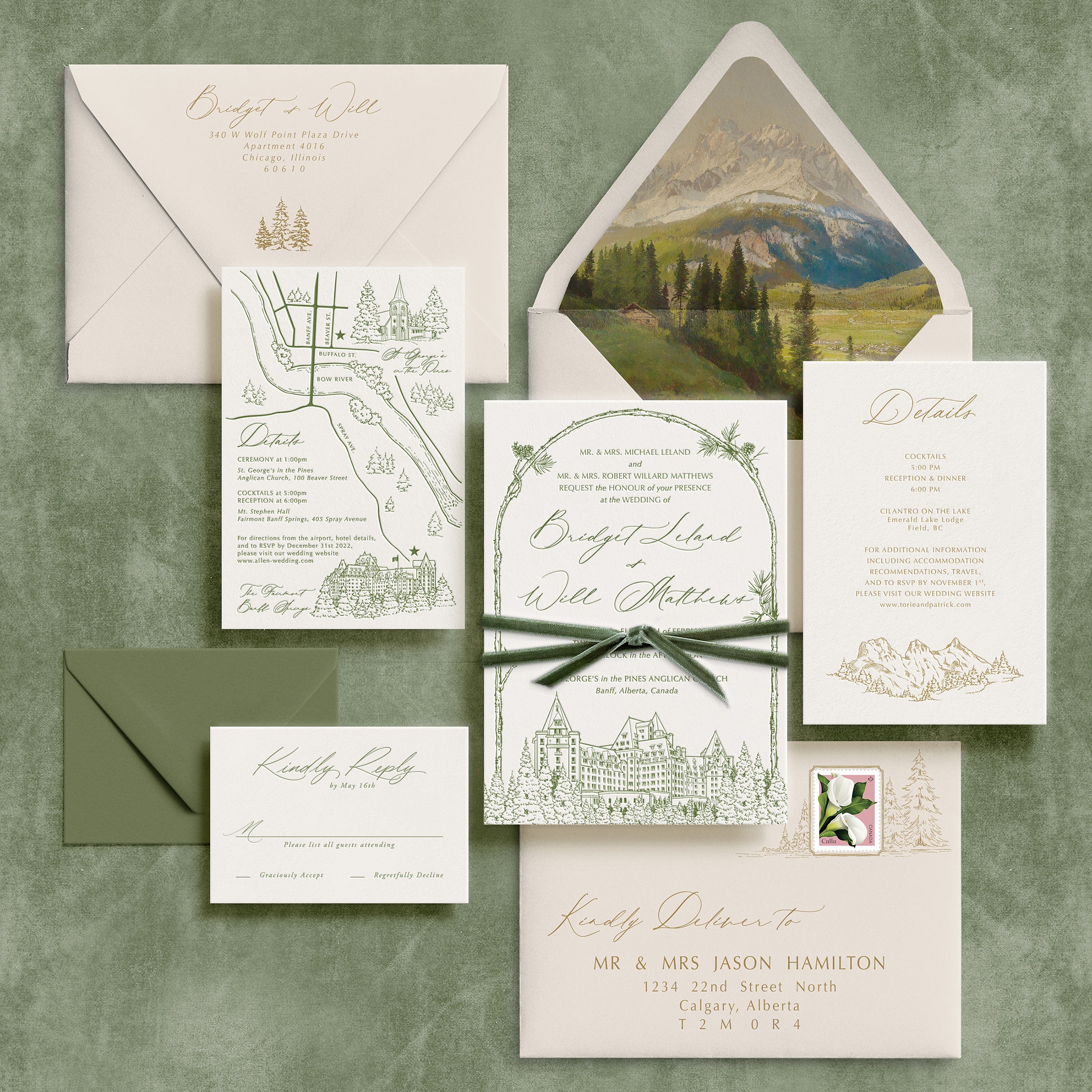 Rocky Mountain
The Rocky Mountain suite is framed by a pine branch arch and Boreal Forest elements.
This suite features the Fairmont Banff Springs hotel, but can be customized with your own venue illustration or mountain landscape. Perfect for the out door adventure couple, this suite can be paired with an envelope liner featuring the Three Sisters Mountain range, or a photo of your Rocky Mountain Adventures.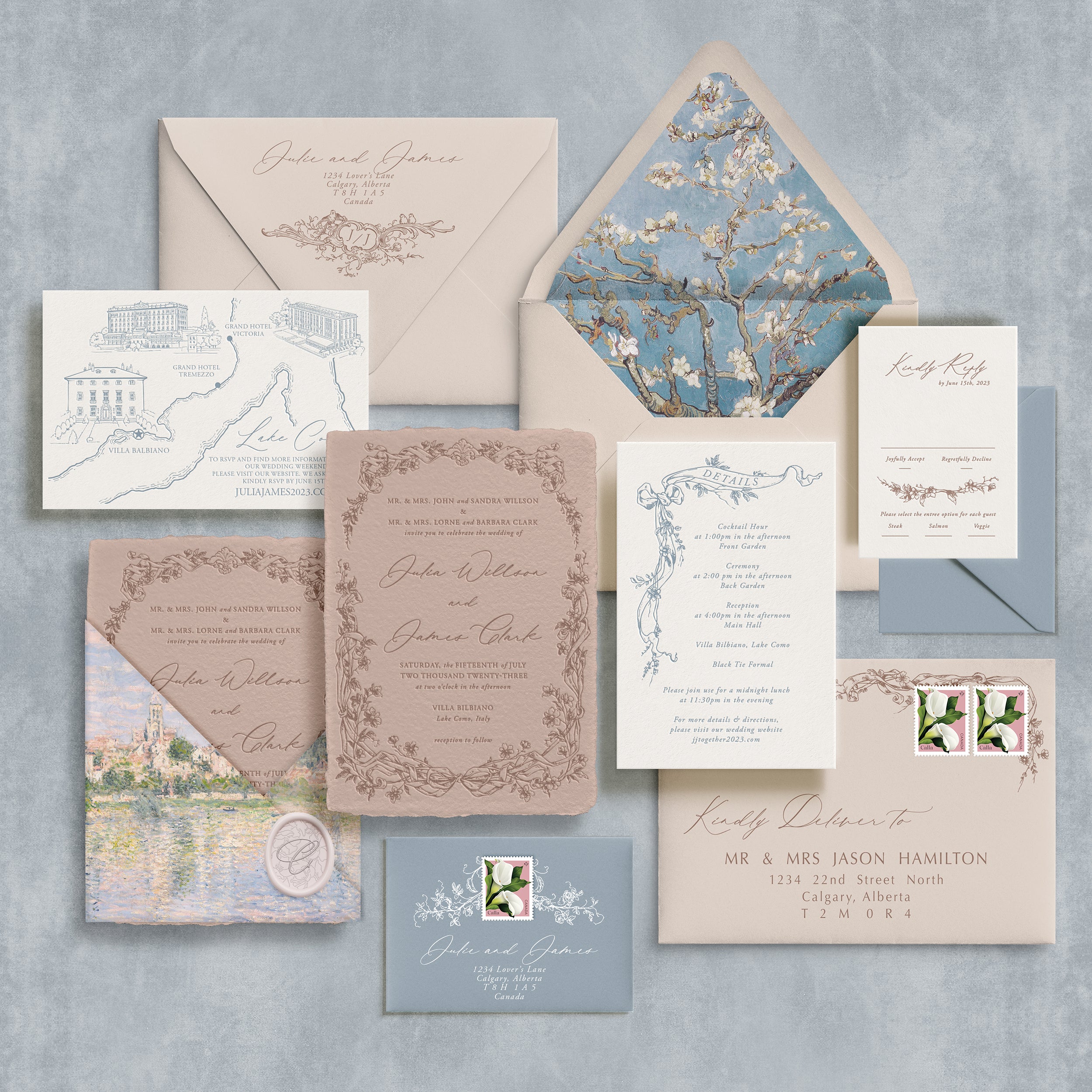 Rococo
Inspired by the mid 1700's French paintings and designs, this suite is a subtle take on the popular Rococo frame motifs. Featuring illustrations of delicate French Ribbon, this romantic suite has a modern touch.
Pair this suite with an Oval Wax Seal, Wedding Map and envelope liner for a truly elevated look.
Choose from multiple border and monogram options to complete your look.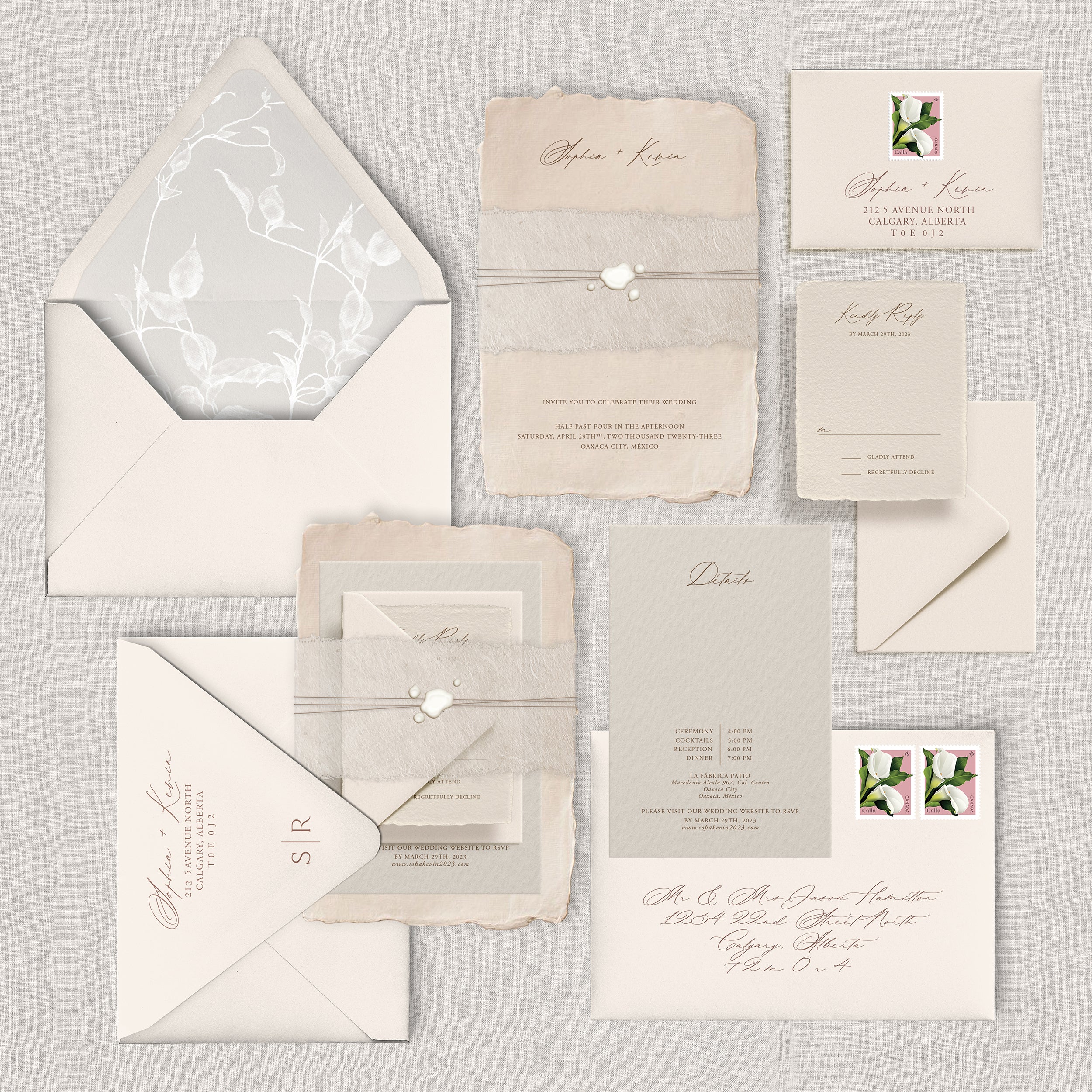 Wabi-Sabi
An extra delicate and minimalist suite that embraces organic elements, raw edges and delicate paper.
This suite is inspired by Japanese Wabi-Sabi aesthetic of appreciating beauty in the imperfections and focuses on the different types of paper, mixing textures, edges and colours together in harmony.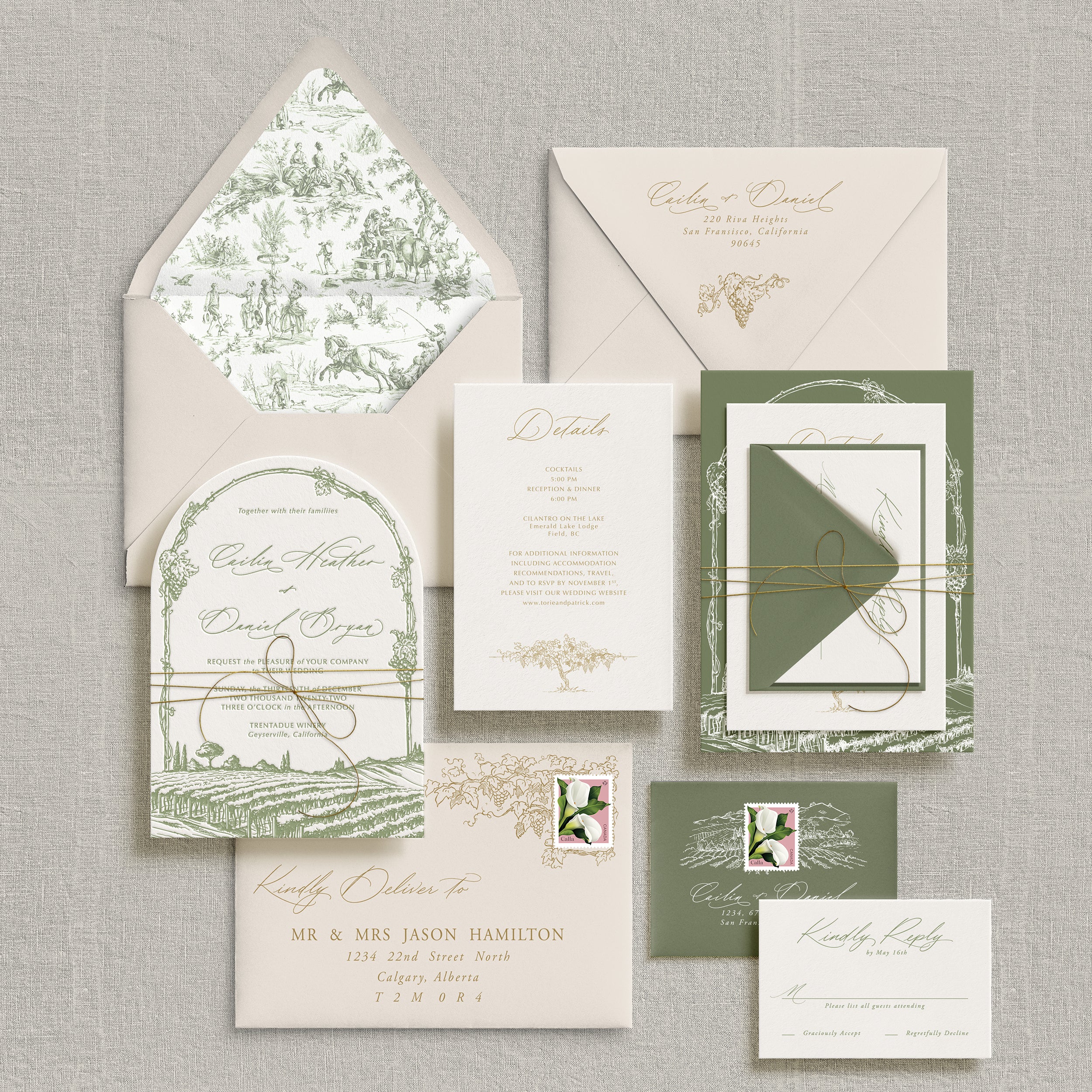 Vinyard
Specially designed for all those Napa, Niagara, or Tuscany weddings set in a sprawling vineyard.
This suite comes with illustrations of a vineyard landscape, but can be upgraded to showcase your specific wedding venue and it's beautiful landmarks & landscapes. Pair this suite with a classic French Toile de Jouy pattern and tie it all together with some fine Japanese Gold Twine.
Please fill out the form below and tell me more about your special day and your dream invitation!
Book a Consultation